What were Australian solar buyers wanting in a system in October 2020? The latest SolarQuotes auSSII report reveals all.
Solar System Capacity Selection
After reaching nearly 85% in September, interest (where capacity was specified) in 6kW or larger solar systems  sat at close to 84% in October – the first time we've seen the upward trend for this size range halted for quite some time. Interest in 6kW+ compared to 6kW was significantly higher in October: +12%. It was only a few months back when 6kW ruled the roost, but as we've previously mentioned both these options would be capturing interest for the "sweet-spot" choice of 6.6kW. That muddies the waters a little and is something we'll address on the quoting form.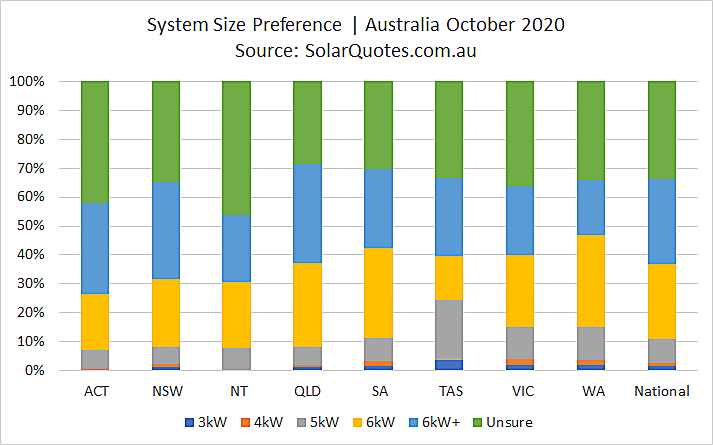 PV Purchasing Timeframe
Australians were really eager to get solar panels installed on their rooftops sooner rather than later. Interest in purchasing a system immediately rose to 24% in October (September: 23%, August: 20%, July: 22%). The proportion of those using the SolarQuotes service considering a solar power system purchase any time from immediately to within three months also rose – 98% compared to 97% in September, August and July.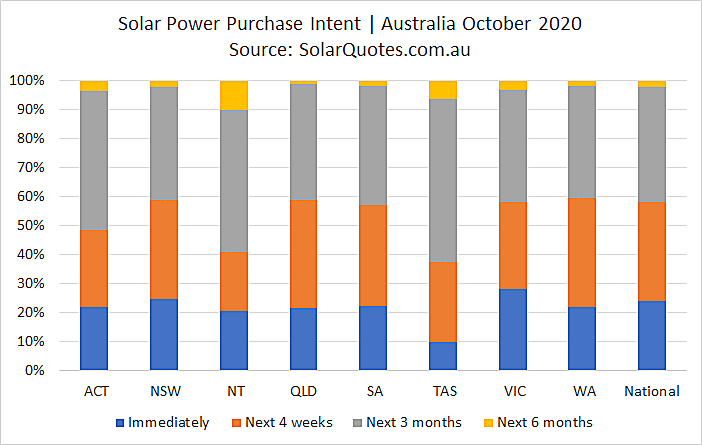 System Price Vs. Quality
As in September, approximately 12% of prospective buyers were wanting pricing on a "top quality" (most expensive) system in October. 80% were interested in a solar power package offering a good balance of quality and cost, while 8% were focused on a good quality budget system.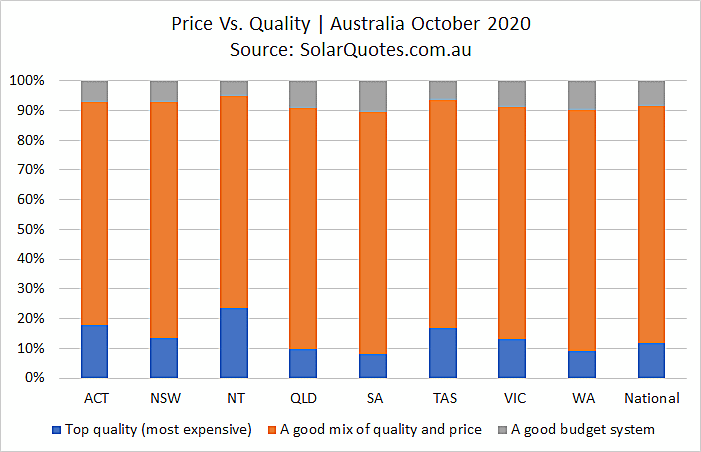 Advanced Solar Monitoring
Interest in advanced monitoring continued to fall in October, down to 47% compared to 49% in September, 63% in August and 69% in July. Learn more about the advantages of advanced solar monitoring.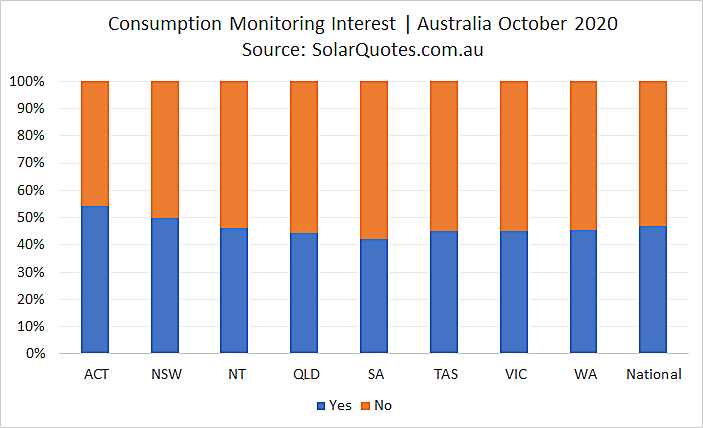 Microinverter Option
A microinverter is a miniaturised inverter installed with each solar panel, taking the place of a single conventional string solar inverter usually used in a full system. The use of microinverters adds to the cost of a system, but the devices offer a number of advantages over a single string inverter setup.
In October, close to 13% of those using the SQ service expressed an interest in microinverters, compared to 14% in September, August and July.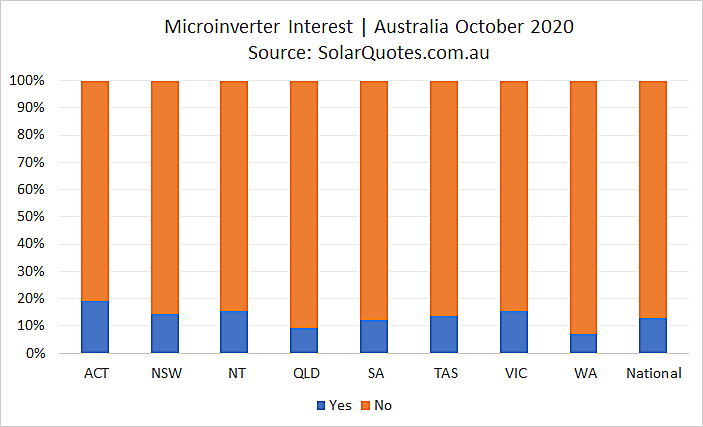 "Battery-Ready" Option
Interest in battery-ready systems popped up a bit in October, at ~6% compared to ~5% in September. A home battery can be added to just about any existing PV system post-installation, but specifying storage may be wanted down the track can assist with system design.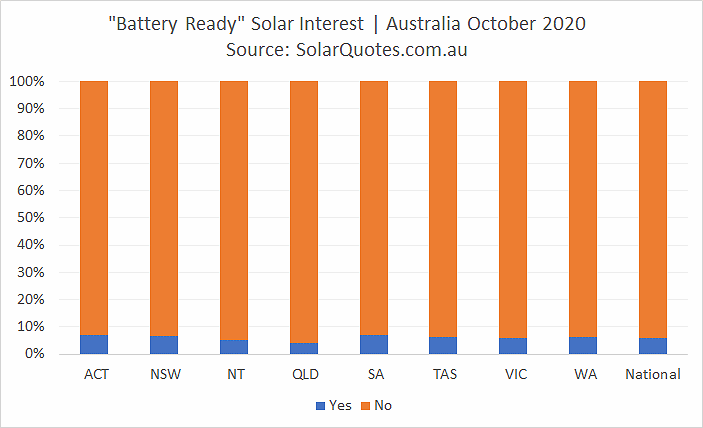 Solar + Battery Installation
As in September, interest in installing a battery system at the same time as solar panels sat at a little under 13% in October. If you're contemplating having a battery installed with your solar panels, crunch the numbers using SQ's solar and battery calculator, which will detail how savings are impacted by energy storage and solar panels separately.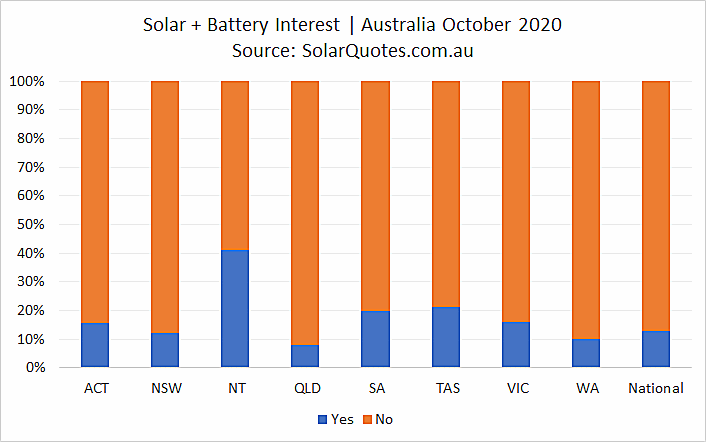 Battery Storage Capacity
Where a battery capacity preference was noted, here's what Australians were interested in during October:
1 – 5 kWh: 17% (September ~14%, August 14%, July: 15%)
5 – 10 kWh: 49% (September ~51%, August 50%, July: 50%)
10 kWh +:  34% (September ~35%, August 35%, July: 34%)
61% of those interested in buying batteries were seeking advice on system sizing, a significant jump from September's 55%.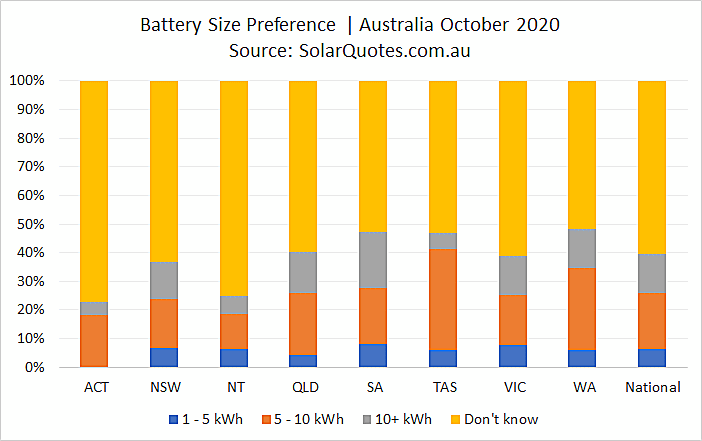 Intended Primary Battery Use
5% noted the primary application for a battery would be for backup purposes, within the usual range we see. 45% said it would be primarily used for minimising mains grid electricity consumption, up on September's 40%. 50% expressed a desire to use a battery for both purposes (53% in September).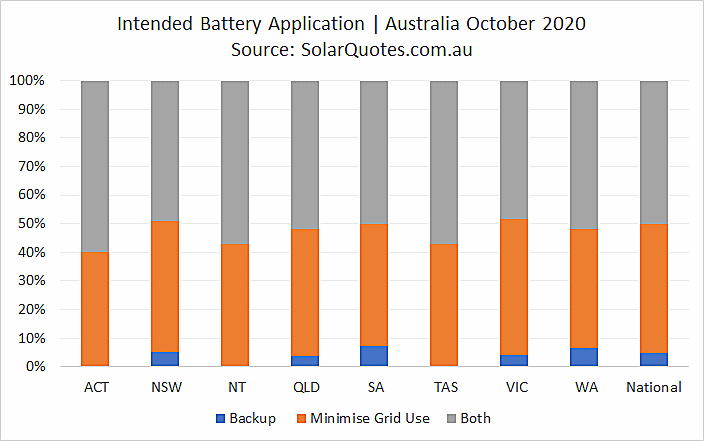 Electricity Bills Pre-Solar
Again in October, around 50% of Australians requesting quotes for solar who knew what they paying for electricity noted bills of between $500 and $1,000 a quarter – this figure has remained fairly static in recent months. The proportion of Australians paying more than $1,000 a quarter sat at little over 12%, not much change from September when the figure was just shy of 13%.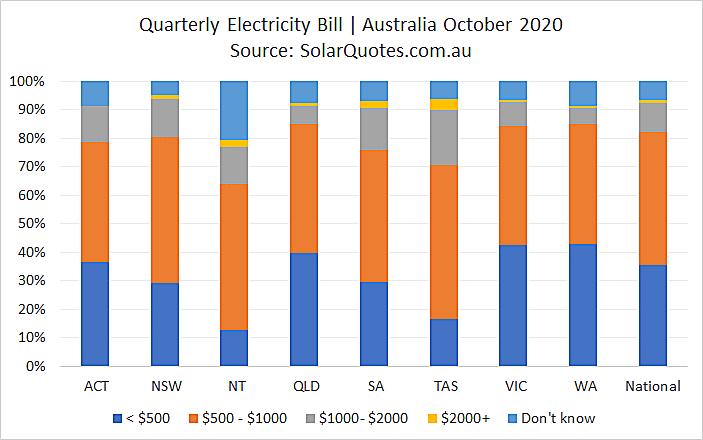 Source: Solar Quotes
Report: auSSII